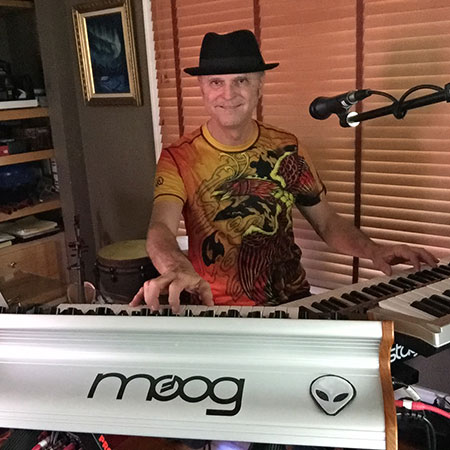 Rick is a composer, arranger and multi-instrumentalist. He is able to fuse the sounds of the Native American flute with the ethereal sounds of piano, and analogue synthesizers. listening to his compositions one feels like you are listening to a collection of notes from nature combined with a flute--as if, through the act of listening you can hear the universe breathing.
Rick started his musical career at 15, playing in rock and blues bands. He was inspired by a variety of musicians and musical genres and was able to be exposed to different cultures through his world travels. His arrangements and compositions reflect a world mix of instruments and rhythm yet his blues background can still be heard. His journey included a "wakeup call" in the form of a life changing, near death experience, which was the result of an accident. It took more than a year to recover physically and mentally. Spiritually it continued to be an ongoing process, with much growth and appreciation for what the universe has given to us.
Rick learned to appreciate the subtle energies at work in the universe. Shifts in direction for his music came about through exposure to studies on the neurological effects of sound. Yoga and meditation led Rick to expand his exploration of music and the connections between physiology, physical and spiritual essence.  — he has been composing, arranging and performing world music ever since.
Renewable Energy - Climate Change
Rick believes that we are dealing with unprecedented climate change and therfore is an avid supporter of alternative energy sources and concepts. At his home, food is mostly cooked with solar ovens, solar photo voltaic panels are installed installed on the roof, and he rides an electric bike whenever possible. He supports organizations that help maintain an environmental balance for our planet.
Community -
Giving back to the community is important. element-tao always strives to give back to the community by giving a portion of proceeds from performances to those in need, such as Doctors without Borders, local health clinics for the needy, animal pet shelters, and environmental causes.